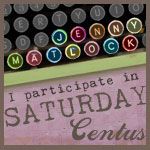 Good morning again everyone......welcome to this new adventurous week of Saturday Centus! ..and
yes
thank you Jenny for such an easy going, rich fulfilling, non-wicked, kind of silly.... prompt today! If you have no idea what I'm talking about just go here
http://jennymatlock.blogspot.com/2011/02/saturday-centus-atm-machine-began.html
So in less than 100 words here's my take at the ATM machine.....
Sure already late for work with a flat tire so hubby graciously gives me his enormous truck.

Of course the freeways blocked so cursing (not really) my way through slow city traffic I spill my coffee after a long wait at the coffee drive-thru.

My bank isn't open yet so walk-up ATM it is.

Wonderful it's snowing again, as I slip on ice getting out of truck.

What next I ask, taking off my glove when unexpectedly

the

ATM machine began dispensing twenties

right before my eyes!