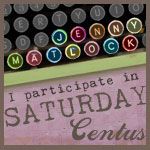 What? .... could it be Saturday again....and the curtain is calling for all of us to perform! Oh yeah, and if you want a part too just go here please!!!
http://jennymatlock.blogspot.com/2011/03/saturday-centus-curtain-parted.html
Thank you Jenny I was so ready to pull out my hair this morning...piece by little piece of meaningful banter......so here it is.....
Carter taught them every trick possible to squeeze out the last tear of the audience. Obviously he would become famous carrying off this most boring script by turning this play into a splendor beyond words. His motivation was to become the Shakespeare of today. Even at the expense of landing a glider plane on stage.
His motto was stern, "Never arrive to an opening performance without knowing your words forwards and backwards!" He also warned "just wishing to receive great applause but forgetting to inspire remembrance is nothing."
In the end,

the curtain parted

and the fans roared for his Kindergarten class.