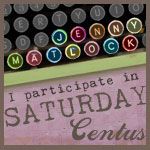 Oh, oh, oh.....Ms. Jenny what have you done! On a Saturday I craved to be oh, so unchicken like, and had so little time to even eat before my retreat....to the jungles of today......and here you are offering (you silly, silly friend of inspiration) chicken? Really?.... Okay I'll take this dare of tossing us a tasty prompt with
chicken
.... How do you rhyme with Chicken?! As always if any of you reading this dare to throw in your own bite or two just go here.....OKAY?!
http://jennymatlock.blogspot.com/2011/03/saturday-centus-im-not-chicken.html
The block party was kickin'
And we passed up swine
For nine bottles of wine
and scrumptious fried chicken.
We're all hopin' not to be stricken
From intoxication
Drinkin' nine bottles of rosy wine
While indulging in finger lickin'
Super fried chicken.
But wait!...as my eyes thicken
And my tipsy steps must quicken
Before my life becomes stricken
After drinkin' those nine bottles of wine.
It's Officer McChicken in line for chicken!
With his breathalyzer-machine and I whine
Oh don't worry I'll be fine
I'm not a chicken!
Note: I am not responsible for the increase of McChicken orders, or delicious fried chicken, consumed today and/or the consumption of wine............! Just have an incredible weekend ahead with or without chicken and wine!