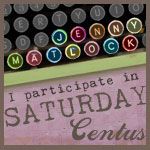 It's Saturday again..........and gosh Jenny escaped once more from the torments of this week's prompt! Ah it's okay....with a prompt like (Exit 181, 1/2 mile ahead) you could go almost anywhere really............but mine won't take place in Arizona....oh no....
Carly drove the hot bustling interstate through a never-ending colossal of Redwood trees along
Oregon
's astonishing countryside.
She left
Phoenix, Oregon
without breakfast still hashing over stories of hysteria her grandmother told about a haunting frenzy across
Oregon
's mountains and prairies long ago.
Those words still haunted her,
"If you don't behave, the Chuchonnyhoof will get you!"
Always fearing this "iron-hide" Kalapuya goblin named Chuchonnyhoof, Carly promised herself that one day she would seek the truth to this legend.
Suddenly, the town of
Salem
,
Oregon
sprung up from nowhere. This was her
Exit 181, ½ mile ahead.
Thanks again for viewing my Saturday Centus and don't forget Jenny would love to hear your version of it as well! So give it a try why don't you!