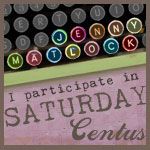 Thank goodness for
Blogger's
rebirth.....well coming back to life....because Jenny has offered a soft and easy prompt that brings warm fuzzy thoughts like.....who does enjoy the rocking of a baby more!?! Her prompt this week is
"Hush little baby, don't you cry,"
don't we all feel like crying like a baby sometimes? Especially when we get missed, or left behind or lost.....okay just because it's raining outside again, and I must work again this afternoon....doesn't mean I can't be hopeful!
If you haven't already given this Saturday Centus (pour-out your inner-self) yet, then hurry who knows if Blogger will be up all day (kidding)...of course they will but go here just in case
http://jennymatlock.blogspot.com/2011/05/saturday-centus-hush-little-baby.html
You can use up to 100 words and that's not including the prompt....here's mine,
Many of us felt like we'd been consumed by Spanish moss.

Sob, sob.

Personally, I dread feeling like a dead skeleton inside a decayed tree.

Why do some managers bite the hands of those who weed?

Following rules and sincerity means nothing?

Truly

, working like a leafless tree and brown-nosing our bosses ranks reward; even while huddling a snug retreat in the backroom devising battles between employees.
Undeniably, all those grease-spattered stones thrown (behind the boss's backs) can be rewarded by receiving "employee of the month". Managers can be so blind.

I know, "hush little baby, don't you cry," there's always next month!