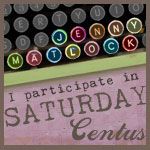 Ah yes our dear...dear Jenny has given the power of our weekly prompt to....ta da...Dazee Dreamer.....who also has an awesome blog to follow along with....and she has concluded that our prompt is
"The reflection in the mirror"
and if you too want to add a reply using that prompt in 100 words or less......(not including the prompt!!) well give it a try here
http://jennymatlock.blogspot.com/2011/05/saturday-centus-reflection-in-mirror.html
Here is my offering................................!
Edward was amazingly handsome and born with a presence that lit any room. He was a social lion with an easy going nature. His chameleon like abilities allowed him to control every situation, and made his demure popularity the envy of every man he knew. Why he could even charm birds right down from their nest. Besides seeming oblivious to his constant admirers, any stranger he met immediately followed his every word. Especially the salesman helping him today was no exception.
"This suit is totally you sir!" But, when Edward bent forward for a closer look,
the reflection in the mirror
wasn't there…. quickly Edward stepped away grinning.