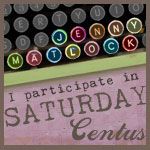 Welcome to another post for
Saturday Centus
(actually posted today, Saturday) the day before Father's Day (in case you may have been too busy to notice) and you all know Jenny usually delivers the prompt or photo for her sweet little game of
Saturday Centus......
But today she has given that privilege away again and yes in only 100 words we give our take on Jeff's prompt of
"within the stone"
and you can check his super blog out at
Tennessee Mudbug http://tennesseemudbug.blogspot.com/
..... if you want to add in with your own idea for this awesome prompt go here
http://jennymatlock.blogspot.com/2011/06/saturday-centus-within-stone.html
Okay here's mine....
Blame it on the well manicured lawns surrounding each magnificent mansion along the river. Every house reflected the owner's personality, intensifying their appreciation and nobody denies forming this plan. Why was one particular house so peculiar? Did whoever own it really need a claw-foot tub and a wooden-tub washing machine on their front porch? This nightmare tormented them like smoldering ash long enough.
Finally someone climbed the tall black iron fence encircling this prosperous property to throw a written warning taped to a brick and it went right through a window

within the stone

house.
"Who attacked my house?"
Was that the Mayor screaming?