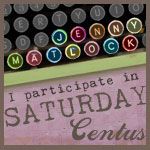 Welcome to another
Saturday Centus
(Wednesday) submission ...after all our
4th
of
July celebrations
and camping last weekend...I'm posting after my usual Saturday post !
Oh, and say, Jenny from
(Off On My Tangent)
with her "Saturday Centus" has given a prompt in honor of the
4th
of
July
(she says, a pseudo-patriotic theme)
"Oh, say, can you see,"
using those five words and up to 100 more words...in any manner, style, song....or poem, it all works!
If you feel like posting your own just go here
http://jennymatlock.blogspot.com/search/label/Saturday%20Centus
Here is my offering:
Oh, say, it was the right night for a perilous fight
between two baker-extraordinaires tonight-
while each designed an energizing delicious-delight..
one smelled like a woodsy aroma spiked just right
and the other like incense flavored tea....!
One of the bakers splashed quite
freely, his sweet fragrant bottle of a secret solution
which smelled distinctively like pollution
while the other baker's resembled mud....
and
by dawn's early light......
you heard with a sigh
Oh, say, can you see,
their crazy concoctions weren't the solution
and could never be
anything but, mud pie.