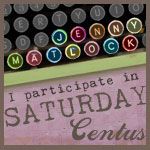 Welcome to another post for
Saturday Centus
(lasts all week long) from Jenny and her blog "Off on my tangent"....where Jenny offers a prompt or photo, and sure there are rules, like this week 100 words of any style but we must use the prompt ..."and the sign read" ..pretty easy right?!
Side note:

May I say thank you Jenny for an easy prompt, BUT!!! Now the tune from
"Signs" plays
through my head....and so I put my hair up under my hat....before all the long haired freaky...... !
If you want to try your own 100 words or less (even) that come on just go here
http://jennymatlock.blogspot.com/2011/07/saturday-centus.html
Here's my post:
Reunion time again and years since my last visit. A crowded city loomed elsewhere; while my innocent town was far removed from the world. A thicket of white picket fences guarded each clapboard house along main street. Just a bank, gas station and diner emerged before McKenzie's Groceries and my High School stood at the edge of town.
I'm not shocked like strangers are when the street ends at a billboard….

"and the sign read"

Dead End. It meant returning to the highway and it appeared the twenty-something bikers clamouring ahead of me weren't very pleased.
There could be trouble!
Thank you for joining us again in another Saturday Centus!