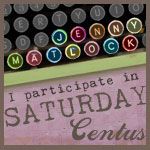 Oh Miss Jenny from "Off on my tangent"...really and truly is off on her very own sweet tangent.....and dished us a somewhat bittersweet prompt I must say....Note to: Judie (another Saturday Centus blogger) be happy you are off on other adventures and will miss this week's Centus of using only 15 words or less....and as usual Jenny gives us the six words
"before I die I want to,"

free...

Hooray we have 21 words to use!
As an added feature Miss Jenny has been kind enough to let us include with this week's prompt a photo if we desire to! Thanks, Miss Jenny......
My Saturday Centus is:
Honestly,
before I die I want to,
crack my skeptical shell, increase my sense of possibility and achieve my wish list.
So instead of a small itsy bitsy building (like Miss Jenny gave us) I offer a Queen's idea of place.....and a lovely garden as well.....
If you feel about 15 or 21 words deep inside just urging to be in print, then just visit Saturday Centus, or just see what everyone else came up with! Thanks for joining me again this week, have a great weekend and a better week ahead!