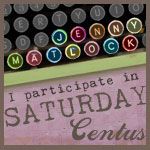 Welcome to another Saturday Centus brought to by, well myself, and of course Miss Jenny from "off on my tangent" and if you want to play along with us (you'll really love it I know) even if we can't use photos today, and just the word "die" is like an ugly word and not on my favorite word list like the exquisite word, young (yet, how young is young?)
So our prompt for today is
If I Die Young, just like that, with a total of 150 words thrown in too, really? 150? Wow....can't do that many today!
Here goes my reply
If I die young,

really? Well, that isn't going to happen. I'm already past young, as far as birthdays go. Yet, on the other side of reason, where logic gets you from A to B and back again, I'll borrow some wisdom from my best friend, Imagination, who sometimes really needs to be shaken up a bit, but always answers.
Together we are irresistible, with our arms slung about each other; we'll blanket the streets like drunken buddies staggering from one amusing thing to another. All in the name of crazy gladness that we can act like we're young, even if we're a tad bit older than young!
So have I twisted your arm, come on tell me I have! Saturday Centus is where we can just let everything go and be young again ...if you know what I mean! Check more out here