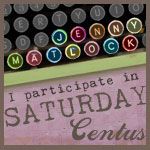 Welcome to another silly and mysteriously funny

Saturday Centus,

where Jenny from

Off on my tangent,

temps us with a prompt, this week it's (Laugh out loud) and the somewhat tidy rules this week of no more than 53 words total but.....(and I really enjoy this) we can throw in a picture too! Isn't that just so darn wonderful? Yes, it is!
So here is my offering

....(note read and scroll down to the bottom!)
The time had come for the groom to retrieve his blushing bride's garter!

She

sat before him while his eyes were blindfolded. Once the music played his fingers slowly began searching, when suddenly a puzzled look came over his face.
EVERYONE
HAD
TO
"LAUGH OUT LOUD"
(keep scrolling for ......)
They'd pulled an old bride/groomsman switcheroo!
I thoroughly hope you may have been tempted to Laugh Out LOUD as well, go ahead don't be shy....it's all about fun and silly games here!...and if you want to play along go here
http://jennymatlock.blogspot.com/2011/08/saturday-centus-laugh-out-loud.html