This is a SATURDAY CENTUS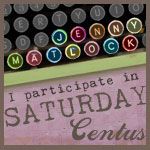 Jenny, from

Off on my tangent,

has been quite kind this week again, with a cheery prompt of

Mother may I.

... exactly like that!
Jenny says, you may use any style of writing, and add a picture or you may not, you may use up to 103 words...but there is an undertow brewing I fear, for Jenny let it slip she may not be so easy next week..... So enjoy reading all you can and posting your own by going here
http://jennymatlock.blogspot.com/2011/09/saturday-centus-mother-may-i.html
Here is my Centus
Our game began with 12 players and right off Joey announced he'd be our mother. Really? Ha – ha! Instantly, Joey's commands shot out like cannon balls.
"Katie, hop like a frog, Tommy, crabwalk for 21 seconds and then take one jump back, but after he told Sara to take 14 giant steps forward and 14 giant steps back while she sang "A Tisket, A Tasket," he never told her "Yes, you may or no, you may not!"
There Sara was frozen in her last command of squatting like a frog. So again Sara screamed,
"I said,

Mother may I

?!"
See picture
I'm thinking Sara is the winner!
Note: The character of Sara is played by - Lyra, my grand-daughter!
as for Joey's character, he's just an unknown (darling) of an artist performing!
If you feel like having a tisket - a tasket of a chuckle go here
http://www.youtube.com/watch?v=XUYpUogn91U