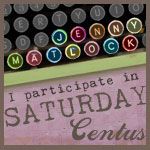 Welcome to another production of

SATURDAY CENTUS

where Miss Jenny last unleashed all those, I'm pregnant rumors.....and today offers quite the test of creations with 100 plus 7 words, and with a photo if you desire....in any style of writing with the great yummy words of..................
"What kind of a pizza is this?"
Do you think it looks easy today? Well, why not show us by joining in too! If you like, just go here
http://jennymatlock.blogspot.com/2011/09/saturday-centus-what-kind-of.html
Or just read all the yummy enteries.....
Here is my tasty offering
Yesterday, with awakened curiosity and the glint of amusement in our steps we boarded the bus for the Minnesota State Fair. Free park and ride from the awesome U of M what could be better? I'll tell you, first we began to feel the obvious pleasures of viewing prize artwork at the Fine Arts Building. Afterwards, trying Chocolate-covered-jalapenos and also, Sweet-Corn Ice-Cream with warmed blueberries on top ...oh yes.... real blueberries melting over the yummiest ice cream! Then we were ecstatically happy about following the advice of Mr. and Mrs. Scarecrow. A single, most swimming sensation of life was tasting this.....BUT!
"What kind of a pizza is this?"
One with marshmallows on top?! YuMmY! Only at the Minnesota State Fair is anything twice as good on a stick!
Oh yeah you've got to live a little......and try many things....
Mr. and Mrs. Scarecrow were right! Try it for yourself! Could these lips tell a lie?
No way!
So why not fly on over and check it out...