WELCOME TO A SATURDAY CENTUS POST
Don't be fooled by the six words that follow.... as many of you know I describe myself in SIX Words usually every Saturday, for a different blog.
This is actually SATURDAY CENTUS!
Today Jenny from "Off on my tangent" has drastically changed our usual approach to an autobriefagraphical! We must describe ourselves/life in six words, and may add a photograph.
You know explain your life like .... "I fix toilets and paid "c- - -" !
Well you get the idea right?!
Truthfully I'm NOT a plumber!
Another example might be........
Lack of enthusiasm - breaks my bank!
The following

six words

are my

autobriefagraphical

so far.
APPRECIATING SMALL PLEASURES AND ROCKY ROADS.
Feel like playing along with us ? Then please go here
http://jennymatlock.blogspot.com/2012/02/saturday-centus-autobriefagraphical.html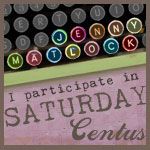 See you next week for our usual Saturday Centus!