Welcome to
SATURDAY CENTUS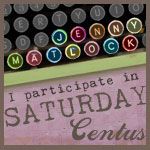 This is where Jenny, from "Off on my tangent" brings "Saturday centus" to the flash-fiction sort of world that sometimes changes to true life experiences!
Jenny's rules for today are 105 words, any style writing, pictures okay and the prompt of,
Not for profit. For comfort.
Here's mine
The desert sun was relentless, causing your skin to feel like parchment.
"Daddy what does rub someone the wrong way mean?"
"Not now Jenny. I'm late for work and my car needs gasoline."
"Please daddy, Danny screamed it at me. Please tell me."
"Okay, it means to make someone unhappy, or uncomfortable."
"Thanks daddy!"
Later -
After Jenny's mother discovered sugar spilled across the kitchen table she ran to the sun porch.
"Danny, where's your sister?"
He pointed outside "Mom, I helped make her "Free Lemonade" sign. Please let her do it!"
"But why free?"
"Who knows. She told me it's "Not for profit. For comfort."
Are you all comfortable now?
Jenny drew a picture for her favorite hero.
If you want to see more or play along too