May this house stand until an ant drinks the ocean and a tortoise circles the world. - Jonathan Carroll
SEPIA SATURDAY
Speaking of turtles, (as you'll soon discover is Alan's theme photo this week) it wouldn't be a complete turtle post, dedicated to turtles unless we begin with-
Our fascination with turtles!
Also, did you notice, I'm wishing you all Happy Valentine's Day as well!
Now, let the turtle stories begin!
committed to continuing Ila Loetscher's work
to save the Kemp's Ridley sea turtles from extinction.
They are a non-profit organization.
Well, nothing could be sweeter than to see a grown man playing with a tortoise.
My Sepia originates with the photo above provided by Alan, from Sepia Saturday blog, and his photo of Captain D. Michelson, of the Australian 2/2 Battalion with the regimental mascot, Tim the turtle, in March 1940.
It seems there's something about turtles and service men that go well together. Below is Turtle Pond, at the Wright Patterson Air Force Base in Dayton, Ohio.
A boy and his turtle.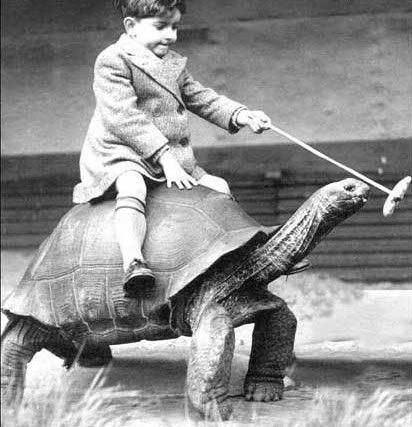 Later becomes a man with his turtle!
There were those that spent life times tracking turtles like Archie Carr below,
this photo of Archie was taken in the mid 1960's while conducting a turtle tracking experiment.
Turtles or Tortoises which ever name you prefer, learning about them was all the same, "so much fun" like pictured here at Green Island in Tenafly, New Jersey in 1966,
Donald Zeiller President of the Tenafly Nature Center with Tom Reisner, checking out a friendly turtle, whose name I don't recall.
Curiously this subject of turtles, in and outside of their hard shelled houses, and their heads hiding or enjoying the journey has mysteriously led me to something else, possibly more interesting than turtles too! Imagine that right?
Yes, to this place. Well not actually this particular location, but the city of Fennimore.
More precisely where to go, or arrive from Fennimore, Wisconsin and how many miles it would take in September of 1939.
It all began searching turtles, (in our real world being 2013) where there are still a few brave established places of business open to the public. Of course the main

"turtles"

there would be the

Teenage

Mutant Ninja

Turtles,

at the Fennimore Doll and Toy Museum.
They also feature a lovely doll wearing a Wedding Gown made with over 2700 beads made from 1959. As well as other fond memories from the 50's, 60's, and 70's, including Chatty Cathy (pretty cool right Kathy?)
Do you remember this darling little smile?
You didn't forget about the unforgettable and high in demand Shirley Temple dolls that are also inside this museum did you?
I'm going to stop right here because my post isn't about dolly dolls made of rubber, or other materials but rather real live female dolls.
.
Meet a few of the Fennimore, Wisconsin (dolls) or ladies posing for the camera at the Fennimore Wisconsin Tent Days Parade.
My search of a mystery lady may very well begin with one of these ladies. But I'm getting ahead of myself.
Also, meet the dolls of Fennimore High School taking a photo moment in their sewing class (yes with needles and thread) and their instructor Mathilda Monteith.
Are you thinking the same thing, that my mystery lady may be one of these students?
What is all this mystery woman business? Could she be related to the mystery gentleman from last week's Sepia blog?
You see, this all begins when I stumbled across this picture, of a headless woman, perhaps of turtle heritage ? Why is her head hiding?
Who was that woman pictured? One of the real live dolls of Fennimore?
Oh I do feel a road trip coming on, and a wee bit more finger dancing through google.
DON'T YOU JUST LOVE A GOOD MYSTERY?
When I discover more about the headless woman I'll let you know. Hopefully there's a real mystery there too.
Stayed tune for next week's addition of "Who was that Headless (turtle like woman?)
For more delightfully hard-shelled posts bursting with delightful information, either with or without turtles go here
http://sepiasaturday.blogspot.com/2013/02/sepia-saturday-164-16-february-2013.html