"In order to be irreplaceable one must always be different." Coco Chanel
Welcome to Sepia Saturday. On this Father's Day Weekend (here in America) and in honor of all those fathers here today, do you want to hear one of man's best kept secrets?
The secret of successfully picking Mrs. Right!
This excludes marriages during the Elizabethan period when weddings were arranged by families.
Gossip says, back in the day of, oh so long ago, men looking for their perfect wife, would search through clothes hanging out to dry?
Really?
Possibly, it makes perfect sense to me.
In any case, picture proof for this young man.
Havana, Cuba
"Excuse me, but are those your clothes hanging out to dry?"
"Why yes they are."
...and so upon noticing there were no men's clothes on the line he asked,
"Great, would you like to spend the rest of your life with me?"
Seriously, (or so my mother always said) behind every good washing left hanging out to dry, there are so many stories.
It's like the truth is in the pudding, right?
Just in case you haven't realized
my post today has to do with hanging.
I must confess too,
I don't just mean any kind of hanging either.
Why hanging?
Because it stems off of our theme photo today.
Sepia Saturday this week, whilst Alan is on yet another worldly adventure, is being watched ever so carefully by Little Nell, aka Marilyn, with a theme about, bodily adornments, like elaborate jewelry or even tattoos! Much like the photo below.
So amazingly stunning she is, and would be even without her elaborate jewelry, don't you agree?
So please come hang out with me okay?
Some things will forever hang around, and still catch our attention, every single time.
No matter what their condition is.
I wonder if he's a father?
hanging on so precariously.
I wonder, could he be a father? If so, I hope his children weren't watching!
So many things destined to hang on

For life or for the duration of said building.
Even when the times have changed, the proof of their existence still hangs around.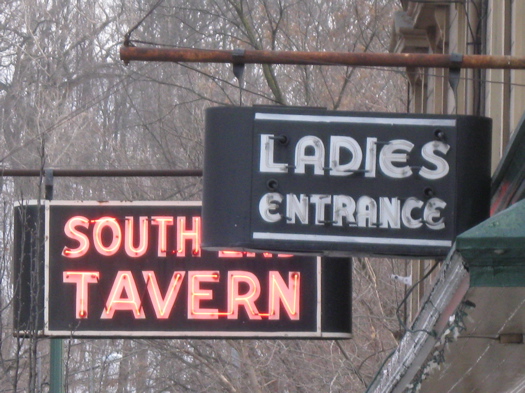 This sign was intended to separate the tavern from the restaurant.
Don't let yours slip away.
To close my post for today I want to wish all those fathers
visiting here today
Enjoy your life!
Happy Father's Day!
Thank you for stopping by just to hang around with me!
For other Sepia Saturday posts go here