In honor of another splendid Sepia Saturday theme this week with a photo, Rob, from Amersfoort offered us, I'll open with this family photo. Three charming characters don't you think?
My daughter to the left of me and my youngest son to the right of me. Pictured for the theme as siblings, bonnets, and three of us.
Yet, my post ends there for this week's theme and opens with a post I promised earlier.
SEPIA SATURDAY
"I love crime, I love mysteries, and I love ghosts." Stephen King
I guess you can say I've been a fan of ghost stories since my childhood. Just what makes ghost stories so fascinating? Could it be the mystery that lurks within each and every ghost tale we read about? How can we ever be sure if it's real or just another imaginary story?
As I promised this week my Sepia Saturday involves, tracking down ghosts and their haunts.
TELLING STORIES.
Have you ever wondered if it's merely another story, handed down with each generation retelling it, or could it be factual?
Pictured is "Town Square" in Northern Minnesota about 1973, where unknown spirits still make appearances but we never truly learn their names. Yet, has anything surrounding this place been confirmed?
Not to my knowledge.
However, this next location has supposedly had several true accountings, and even ghostly photos taken by ghost hunters and their equipment.
There are endless accounts relating to Bachelor's Grove Cemetery, in Midlothian, Illinois.
Bachelor's Grove Cemetery is a small, abandoned cemetery in section 8 of Bremen Township, Cook County, Illinois. It sits just northwest of Midlothian and Oak Forest, very close to Rubio Woods Forest Preserve along the Midlothian Turnpike.
It's very well known for being haunted and to offer many supposed ghost sightings. It's strictly off limits to enter after dusk. Situated in the southwest Chicago suburbs it's been known to have of a bit of vandalizing occurring within the cemetery.
A short video of footage within supposedly one of America's spookiest graveyards. Bachelor's Grove Cemetery, set in Chicago's Rubio Woods between Midlothian Turnpike and the Oak Forest.
http://www.youtube.com/watch?v=EW3fRvZEJG0
Aren't most of us all just a wee bit curious to know if any of these stories are actual, or if folks are just "Telling Stories" for pure spooky entertainment?
THE MOVIES - have made endless dollars on such stories. True or not.
Not only ghost stories linger about these old haunts, but there has been much talk of mummies and other monster types lurking about the history books in Minnesota. Do they resemble the likes of this photo below?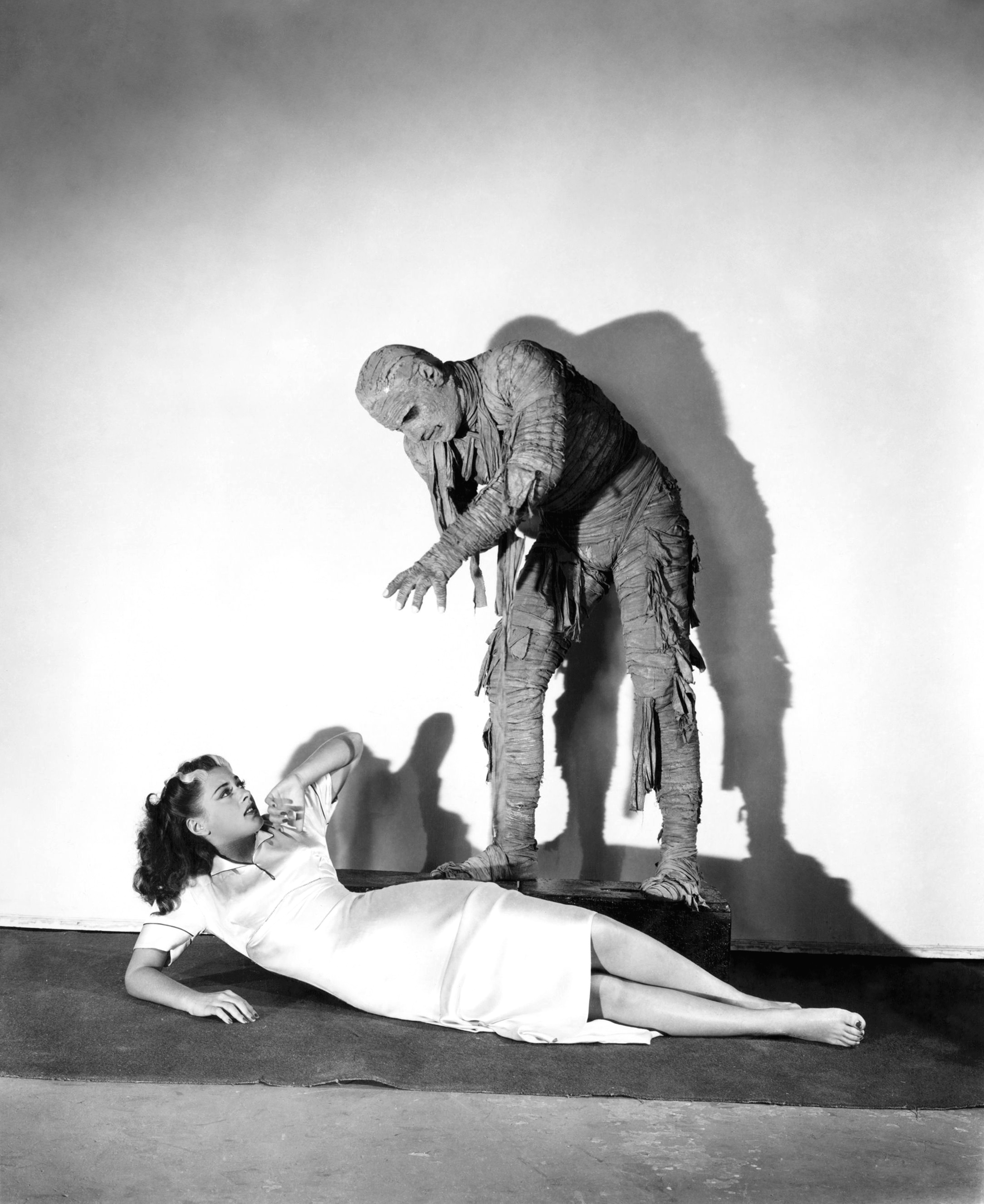 This is quite entertaining theatrics but below
is actual proof of a mummy originating from Minnesota.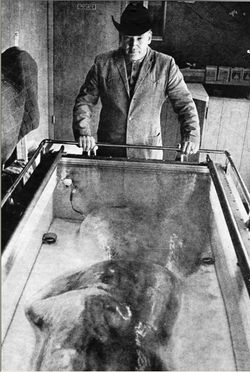 Meet the Long Lost "Minnesota Iceman" that Museum of the Weird owner, Steve Busti has in his possession in Austin, Texas.
The Museum of the Weird is a homage to dime museums made popular by the likes of P.T. Barnum, featuring everything from real mummies, shrunken heads and oddities, to wax figures of classic movie monsters, to live giant lizards. They even boast a live sideshow on stage every day, where one can see magicians, sword-swallowers, human blockheads, and even an "electricity-proof" man.
In addition to the Minnesota Iceman taking up permanent residence at the Museum of the Weird however, Busti also plans to loan the Iceman for display at the International Cryptozoology Museum in Portland, Maine for a special limited future engagement.
Further details can be found at
www.museumoftheweird.com
In reality, isn't it always the case for hunting ghosts or other such type tales that one must travel across a questionable bridge or two?
Although, not every true ghost town or ghost story can be completely uncovered in one trip. An example is this photo below.
What historical societies share with us, throughout their guided tours are often merely the crust to a much more delicious pie, to be devoured, once you dig deeper.
This photo was taken in a ghost town of Dakota County and is the only remaining structure of the town which existed from 1855 - 1871.
Everyone loves a good mystery right? We're all familiar with how crime, mystery and ghosts can intertwine as well but, where do we begin to uncover the hidden bones to these tales?
What about secrets? So many best kept secrets reside amongst these ghostly tales, and for some reason or another, somebody desires to keep the goings on, secret.
CHASING GHOSTS
My favorite location to begin any ghost hunt, is the local pub. Okay, sometimes the local diner or coffee shop is also a great beginning as well.
Truth is, you're always guaranteed the latest and most honest truth about anything and everything amiss or reasonably important information, from the past, especially relating to ghosts.
Equally refreshing when I stop here are the beverages on tap or bottled, and most importantly their Shepherd's Pie!
If you're lucky, and you don't intrude or aggravate the clientele you will be fortunate enough to gather valuable information from random sources. Just remember, as the story goes, truthfully they say there isn't a shred of any actual ghost story connected to the Archer House. Well, that's what the townsfolk want you to believe. True ghost hunters know better.
Sadly on this day ghostly stories regarding the Archer House, were non-existent. But, I got a name of an old timer, that should prove to be quite reliable. Hopefully, sometime this month.
THE Grand Opening was in 1877
Stepping inside the Archer House
and approaching the desk this is what you'd see.
Throughout my years of gathering information about this still very accommodating hotel, it has varied as much as the individuals telling the stories. Naturally, during the famous celebrations in town about Jessie James and his gang and their famous bank robbery, that is reenacted every year, the tales become highly entertaining and believable.
One bit of history connected to Jessie and his gang, is that they actually rode their horses from Northfield to camp out around the railroad tracks that once ran behind my very own property.
I certainly have learned Northfield, Minnesota has lots of ghosts to uncover. Of course Northfield is home to two colleges so that may explain something as well, right?
What I've determined through my recent experience in Northfield and chasing ghosts, we begin at St. Olaf College.
However, stayed tuned for my next installment to discover more about the surprisingly haunting stories in Northfield and other places.
Too be continued.
For other Sepia Saturday posts go here