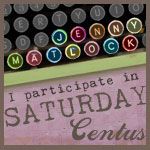 Hello again Saturday Centus bloggers....and other bloggers...are you craving to run wild in 100 words or less with the prompt of this week? Then please hurry over here
http://jennymatlock.blogspot.com/2011/03/saturday-centus-everything-depended.html
Since I feel for Jenny and her horrible jaw pain...truly I do.....I won't make this too scary or horrible by any means......I sure hope Jenny gets better quickly....
Was Holly locked in a sweet illusion of love?

They had shared whispered pledges of love to each another.

If Charlie asked, she'd follow him wherever his magic would take them.

Twice he left delicate flowers on the dashboard of her Volvo.

Their first kiss was awkward but those after were filled with love.

He was the answer to all her dreams.

Until yesterday, when a stranger interrupted their dinner date by placing a red envelope beside him and fled.

Was his past catching up?

Slowly he opened it.

Could it be that everything depended upon this single card?