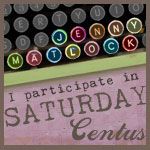 Oh Miss Jenny you're playing with silliness on this great adventure in honor of week 50...and you're so right it's totally golden! So not to offend anyone, by an ill review or selecting one post as better than another I'm going to review ...well you'll just have to read and find out!
If anyone else wants to play along and has no idea what this Saturday Centus is all about just go here
http://jennymatlock.blogspot.com/2011/04/saturday-centus-shake-em-up-up-up.html
Every week it's a bit different but in the end it's so much fun and eye opening in so many unbelievable ways! Try it out, you'll see!
As instructed by Miss Jenny, here is my choice to review, "April Showers Bring"... - by Karen S.
Taylor's true passion for this centuries old art began from her keen eye for flower design. Victorian people used symbols and gestures instead of words with special meanings for certain flowers. Camellia for graciousness, daisies for innocence and Wisteria for steadfast and so Taylor magically weaved each bride to flower.
After grooms swallowed their bait, putting all doubts aside and holding a carat before his bride to be, he would ask for her hand in marriage. Love being too insistent to ignore, dates would be set and ultimately after April Showers bring May flowers; Taylor presented, the loveliest of springtime weddings.
This is my review:
(granted it's my own piece) about Taylor and her flower crafting!
For years I've reviewed author's material from a hot bath! This essay caught me soaking up claims of a compassionate flower designer; yet once the bubbles disappeared it's only an unconfirmed rumor that Taylor was exceptional. Simply, it lacked hugely important images, and presented a scary thought of another expert amateur designing with her eyes wide shut. This lack luster approach beckons drowning instead of keeping it safe and dry as other writings penned by this author. Seek her Flying Boat poem collection or American Chop Suey Recipes, and let this one swim with the fish!