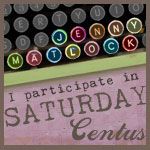 Welcome again to Saturday Centus brought to you this lovely, sun filled morn.....after a weekend of so much joy but little composing time.....I am SO VERY deLIGHTed to see Jenny going after my own heart and serving up springtime madness for us all! I promise Jenny not to put anything scary, or um you know into this post................no need for hubby to um, look under the bed tonight! Enjoy and if you are reading this and haven't offered your own
Saturday Centus
....why not?!
Taylor's true passion for this centuries old art began from her keen eye for flower design. Victorian people used symbols and gestures instead of words with special meanings for certain flowers. Camellia for graciousness, daisies for innocence and Wisteria for steadfast and so Taylor magically weaved each bride to flower.
After grooms swallowed their bait, putting all doubts aside and holding a carat before his bride to be, would ask for her hand in marriage. Love being too insistent to ignore, dates would be set and ultimately after

April Showers bring May flowers;

Taylor presented, the loveliest of springtime weddings.