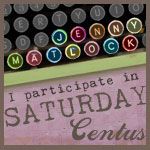 Jenny from Saturday Centus has offered such an inspiring prompt to an old amazing song….at the end I have a link to a video of it on You Tube (check it out) it feels really good to hear again....
If you want to join in on this fun and silliness at Jenny's
Saturday Centus
please go here
http://jennymatlock.blogspot.com/2011/05/saturday-centus-id-like-to-teach-world.html
Our prompt this week is "I'd like to teach the world to sing...." and including the prompt we must supply at least 100 words...no more please...! Here is my Saturday Centus post....
In honor of this song ……teaching the world to sing in perfect
h a r m o n y ....singing la la along building a world with love…I posed this question on Facebook …..
Me: "I'd like to teach the world to sing," ….can you help?
Johnny Egghead:
Ah, sorry you'd enjoy a raging, banging merciless wind more!
Mr. Herring Bone:
Really? …foregoing foolish reluctance....I humbly… accept….
Molly Go Lightly:
From the valley of strange echoes…listen carefully …NO WAY!
Bea Warey Clown:
Hoarsely…..this tragic voice never sings (out of the shower!)
Aaron theRedBaron:
"laughing" I taught
you
to sing!
The End......
Note: The names and comments have been changed to protect my friends and family! No animals or trees were hurt in this process....This is not a true story. Just BLOG fun!
"I'd like to teach the world to sing," here's the link for an inspiring version of it on Youtube
http://www.youtube.com/watch?v=taqLEjCVTdo