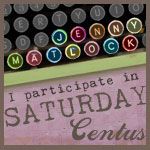 Good morning

Saturday Centus

followers...it's a new prompt of

"Dear John"

oh no! Poor, poor sad John or maybe not!

Jenny, at "Off on my tangent blog"

has said in honor of this being the

60th Saturday Centus

we have only 60 words plus two more to complete this task if you decide to take it....I must hurry as I have a very important date in a short while and poor dear sad John....won't be coming along...where or where could he be? Read on to see and if you want to add your own 60 plus 2 words to complete this mission well then go here
Here is mine:
Since you disappeared again, a google search to send your

Dear John

letter led to Pottawattamie.

Even though you were always as friendly as a rattlesnake, and subtle as a Mack truck, your slyness let you catch any girl.

Finally it's all caught up to you.

The search continued with section 14, Row 3, in an abandoned cemetery north of Honey Creek.
Thanks for following along again...and if you want some groovy music too, just head over to Saturday Centus! Have fun!