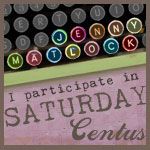 Hello once again Saturday Centus followers....it's good to be back and Jenny has changed things a bit this time.....this week only 25 words, yes that's twenty-five sweet little sad, delightful or horrifying words of something created just by you!
But wait, you must use the prompt "the end" with it!
I know you just can't wait to snap out your own little bit of joy to brighten the end....so go here
http://jennymatlock.blogspot.com/2011/06/saturday-centus-end.html
Here is my entry.....
Safe at last, on a dirt road leading away from "the end" of the forest, Stella had survived her terrifying turbulent past to begin again.