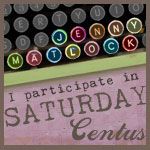 Welcome to another Saturday Centus
Where Jenny from "Off on my tangent" has given us quite a momentous prompt today!

"Surprise! I'm

pregnant?"

Really, you are? Oh no I'm being silly... we all are today! ...well sort of, since it's this week's prompt.....!
Rules for this week are, no more than 100 + 3 (for the prompt)=103 words, and we may doll it up with photos, and any style of writing. Thank you Jenny for not making it 6 words only....!
Here is my prompt
"Surprise! I'm pregnant!"

Or, "Is it a pregnant spaceship?" are commonly heard after seeing the Jacob Harder house. Being an architectural nut I had to see for myself; even after hearing a fire destroyed it.
Seriously, only an architectural genius could have designed this magnum opus residence; for the entire world to study its faded-pea-green, fish-scale-like shingles, and bulging framework that no other circular dwelling could ever match. Everyone at the local café buzzed about its blueprint being of celestial design.
My anticipation surmounted as the GPS commands stopped at 207 N. 8th Street. I couldn't believe my eyes when I saw........
The Jacob Harder House was standing before me.....
Bruce Goff, (fantasy?) architect- B. 1904 - D. 1982.
Yes! It still stands today! Swelling in places just like they said it did and...
Maybe it being a "Spaceship" isn't such a silly idea....
and I think I see where....the idea of a house appearing pregnant might not be too far off either...
So thank goodness a fire did not destroy the Jacob Harder House, and just to mention it is a private residence, even if it is the strangest house not just on the block but quite possibly in all of southern Minnesota!
If you feel like playing along or just want to see some other posts go here
http://jennymatlock.blogspot.com/2011/08/saturday-centus-surprise-im-pregnant.html
Jenny and the rest of us will be glad you did!