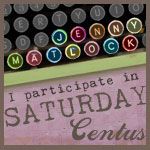 THIS IS A SATURDAY CENTUS POST
-
Straight from Jenny's blog

"off on my tangent"

and we can use up to 150 words plus the six word prompt of
"Are you seriously ordering another martini?"

But, in dialogue only.......so could we write fiction? We can write anything, just only in dialogue and NO pictures!
The other cool thing about this week's centus is the whole he said, she said, they said...with simple dialogue you could completely have no idea is it, he or she speaking? Unless, you were eavesdropping!
Here's my offering
"At the rate you're slugging those martini's down, you'll need a million dollars and multiple lawyers if you don't stop now."
"Really smarty pants, you know this because?"
"I'm already defending you on another charge!"
"Well, it's not everyday your ex marries your best friend and you're invited to watch."
"It might happen on The Good Wife."
"Who?"
"Oh never mind. Just draw in your horns and let's leave this point of no return now."
"Not on your life. Pyrrhic victory or not, I'm staying!"
"Really,

are you seriously ordering another martini

?"
"How else will I have the courage to…….."
So come on now I just know you are all crazy about putting your own he said, she said, they said together, or at least reading some other ones, so go here
http://jennymatlock.blogspot.com/2011/09/saturday-centus-he-said-she-said-they.html