We begin with a mystery man.
Why? Because Alan, from
Sepia Saturday
has sent us on a mission. Do what we may with this man or the blizzard he's caught up in.
I'd rather avoid snow at all cost and begin my story with a kiss and not just a kiss, but THE kiss.
Their kiss.
It was the kiss that changed his life forever!
But the very next day, she moved away.
So he vowed to find her again someday, and she never escaped his thoughts.
The fragile nature of this mystery man's situation had me baffled from the beginning. The reality of her absence left him utterly desperate, almost to the edge of hysteria. Still, he trudged on, searching for his one true love.
Such devotion after only one kiss.
Where, oh where could she be?
Of course he dreamed of the day that she'd be delighted at the arrival of one of his letters. If, he only knew her address. As days turned into weeks and months into years, he feared the unthinkable.
What if she had become the most popular dame, married far too early and...
quite possibly became the mother of ten or more children by now?
Nah, she was much too beautiful and it was far more likely that she became,

a famous movie star, with no children and her own private cook.
What he wasn't so sure of, was if she would be a blonde,
or a brunette, but he knew she'd be famous.
So famous that she would have breakfast at Tiffany's every morning!






Just the very thought of her becoming an old housewife, irked his very soul. On most days his mind filled with erotic thoughts of her until -
- he would cross paths with a couple kissing in the village square, causing his blood to boil!
Whether his determination in finding her would eventually lead to a resolution or not, he spent his days searching for her, and he quickly became quite haggard, but he vowed not to be defeated.
I find it quite amusing, his being so blissfully unaware that I was following his every move. Perhaps he was just that lost in his own sleuthing.
Yes, there I am with the dog! (Ha Ha!)
Finally, one afternoon I caught him muttering, to himself. Perhaps you can see him standing by the doorway? Of course I had to keep moving so he wouldn't spot me. Just who was that couple kissing in the middle of the street? Had he found his true love or not?
Apparently not, as he hurried away and left me stuck behind a squad of chattering ladies entering a cafe and a throng of other voiceless people moving quickly by.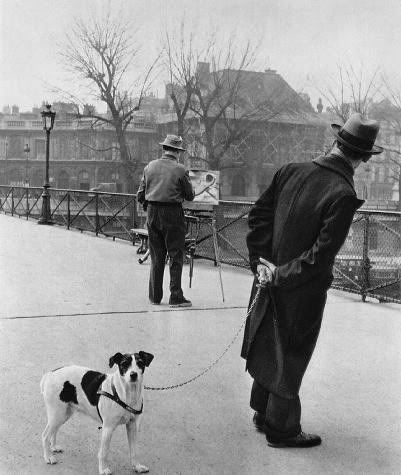 By the time I caught up to him he had some how managed to collect his dog, and I watched quietly from behind a lunch cart while he observed a local artist.

After that day I had to give up my pursuit of him.
For a while I enjoyed not following him, and quite frankly nearly forgot all about him, until someone mentioned seeing his name in the morning newspaper.
Oh my, had he really turned to a life of crime? There were rumors that he was in fact,
A gigolo with a heavy drinking problem and he quite literally fancied himself as a gun collector too! He was well liked by all the ladies that's a fact.
Maybe he was an art thief as well?
It all made me quite curious again, after discovering such accusations, so naturally I turned to google.
It does appear, and I'm not quoting this from any fairytale either, but rumor has it that he may very well be the man behind the "

Wooden Man"

carved and deeply rooted into the ground somewhere in Marquette, Michigan.
Apparently, he never found his true love, because the only thing by his side is a wooden cane.
Moral to the story- Find another true love before you turn to wood!
For more Sepia Saturday posts
(and quite possibly another story or two, about this mystery man)